2020 - Alexander Egorov, Russia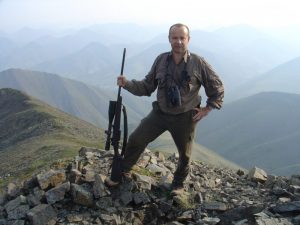 Alexander Egorov was born in Russia, grew up in Siberia. He started hunting at the age of 6 with his father. Since then all his dreams were only about hunting. He worked as a trapper, served in the border troops in Kamchatka and travelled extensively throughout vast Russia, selflessly and fearlessly mastering its most remote and inaccessible places for hunting.
In 2003 Alexander became a member of SCI. In the same year, for the first time, he went hunting outside of Russia and from that time began registering trophies. His first recorded trophy was Marco Polo, which he got in Kyrgyzstan.
Since 2003 Alexander has hunted at a speed that is very difficult to imagine and few can compare with this.
His passion has always been mountain hunting, he got 38 different types of sheep, 35 different types of wild goats. In total he got 118 mountain animals.
His collection of more than 440 different hunting trophies from around the world (81 trophies of which are still in the Top 10 SCI to this day) is the result of 173 international safaris, visiting 56 countries on all five continents.
173 different species were harvested in Africa, completing 40 full African safaris in 12 African countries. Hunted 104 times in 14 different countries in Asia and obtained 75 different species. Hunted 105 times in Europe and obtained 51 types of trophies in 24 countries of Europe. He has spent a lot of time hunting in Russia, four times in Mongolia, Pakistan, Kyrgyzstan, Kazakhstan, Turkey, and Iran. Three times in Tajikistan, twice in Armenia, as well as in Uzbekistan, Azerbaijan, and Nepal.
Alexander hunted around the world with amazing zeal and stamina. He completed his "SUPER SLAM" of "NORTH AMERICA BIG GAME" in four years. To get his previously mentioned achievement he made two unsuccessful expeditions for Roosevelt Elk in 2015 and only for the third time in 2016 he got it.
He took 39 safaris in North America and preyed on 76 different species, including 44 indigenous species of North America. He also achieved SCI diamond levels in South America, Australia, and New Zealand.
His various achievements include the following:
"CONKLIN AWARD"
"INTERNATIONAL HUNTING AWARDS" SCI
"WORLD CONSERVATION AND HUNTING AWARD" SCI
"PANTHEON AWARD"
"SUPER SLAM RUSSIA Big Game" (35 animals of Russia) 2019 – the first and only Russian hunter to receive an award
"16 GRAND SLAM'S" SCI
"26 DIAMOND LEVEL AWARDS" SCI
"WORLD HUNTING AWARD" SCI
"ОVIS WORLD SLAM SUPER 30", 2016
"CAPRA WORLD SLAM SUPER 30", 2015
"TRIPLE SLAM", 2014
"SUPER SLAM OF NORTH AMERICA BIG GAME", 2016
No. 1 The highest Russian award of the CLUB OF MOUNTAIN HUNTERS – "RUSSIAN MOUNTAIN HUNTING AWARD", 2016
"WEATHERBY FOUNDATION" – Finalist 2018
"WEATHERBY FOUNDATION" – Finalist 2019
He actively cooperates with numerous hunting and environmental institutions: WEATHERBY, CONKLIN FOUNDATION, SCI, GSCO, DALLAS SAFARI CLUB, COFRADIA CULMINUM MAGISTER, WILD SHEEP FOUNDATION. Member of the Board of Directors of CONKLIN FOUNDATION; Member of the Board of the Mountain Hunters Club and Moscow Safari Club.
He became the initiator and leading force for amending the law on hunting in Russia with the bow and arrow. From January 30, 2020, bow hunting is allowed in Russia!
He has published over 200 articles promoting hunting and wildlife conservation in various Russian magazines, and he is also the author of the hunting book "ANATOMY OF HUNTING".
He has fully funded and participated in the filming of more than 20 films for Russian and Bulgarian television, including: "Hunting in America"; "Hunting in Tajikistan"; "Hunting in Pakistan"; "Hunting in Namibia"; "Hunting in Africa"; "Hunting in the Far North of Russia; The Arctic of Yakutia "; and "Mountain Hunting in Iran".
Alexander lives with his family in Moscow, has two sons and a daughter. Now he is a successful businessman, owns and runs a large construction company in the Moscow region, which allows him to significantly improve the quality of housing for people in his region and create many jobs.
In 2005 Alexander founded and finances the Gletcher-Help Charitable Environmental Fund, which provides assistance to gifted children, allocates funds for the conservation of wildlife, maintenance of environmental projects such as wildlife, protection and restoration of endangered species. In 2011, the Foundation built an Orthodox church in Moscow.
Alexander constantly contributes to many useful hunting initiatives and hunting / nature management organizations around the world and believes that only thanks to hunters many species of animals have been preserved to this day and completely agree with the slogan "Hunting is the best way of wildlife conservation".